Ufo für die Ausstellung "Space is the Place" in München, Oktober 2018
und für die Ausstellung "Fly me to the moon" im museum der Moderne, Salzburg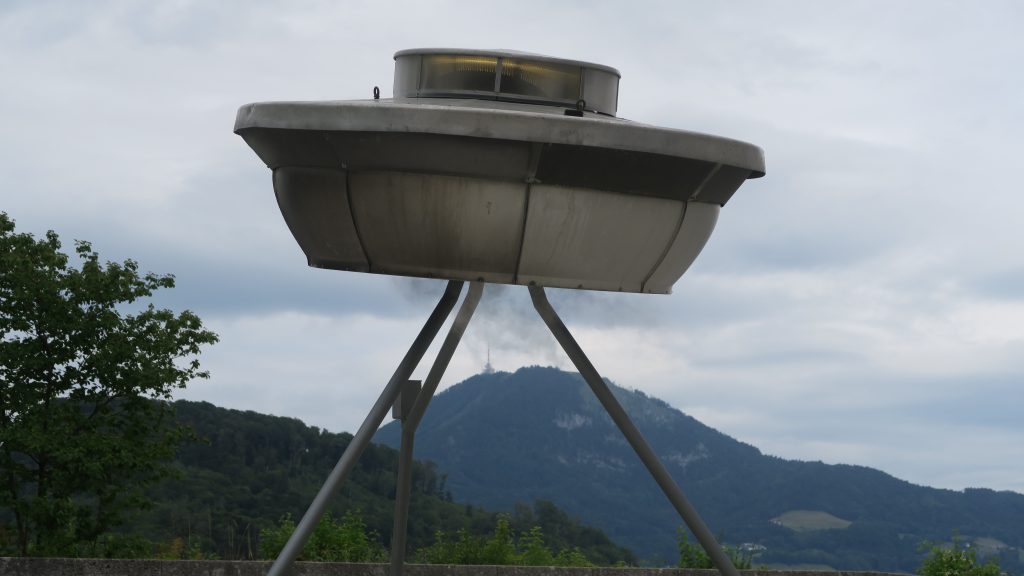 Die UFO-ähnliche Lampe stand hier einst auf dem Gelände bis alle Gebäude abgrissen wurden und sich der Ort in eine weite Kiesfläche wandelte. Beate Engl hat die Lampe vor der Verschrottung gerettet und in eine fliegende Untertasse verwandelt, die nun im Tiefflug ihr altes Zuhause erkundet.

Die Lampe wurde entkernt und mit neuer Technik versehen. Scheinwerfer, Lampen, eine Nebelmaschine, Bumper und eine Soundanlage werden über ein DMX-Programm gesteuert.
Die Programmierung umfasst zwei Programme, ein dauernd laufendes Programm im Loop und ein "Action"-Programm, das nach Einwurf von 2.-€ in einen Geldeinwurfschlitz gestartet wird.
Technische Entwicklung und Aufbau dur Leuchten-Modelle Pancho Schlehhuber, Programmierung in Zusammenarbeit mit der Künstlerin.